Why a Studio?
I was exhausted when I moved into my tiny Brooklyn studio. My relationship was rocky and I needed a place to live quickly. My soon to be ex and I were still sharing an apartment, a bed, division of household duties, and I was having a difficult time coming to grips with the fact that he'd called it quits. In the back of my mind, I thought that we would reconcile, I'd move back "home" and rent the newly leased apartment on airbnb. A month or so in, it was clear that this new studio was my new home, and it was time for a new beginning.
My current apartment is roughly the size of the kitchen in the apartment that we shared. The living space is smaller than my childhood bedroom. It is the tiniest place I've lived to date. It is also the most peaceful place I've ever called home. Over the last couple of years, I've learned that when you're surrounded by things that you love you'll find comfort in the smallest of spaces. I'm truly grateful for that peace.
How do You Stay Sane?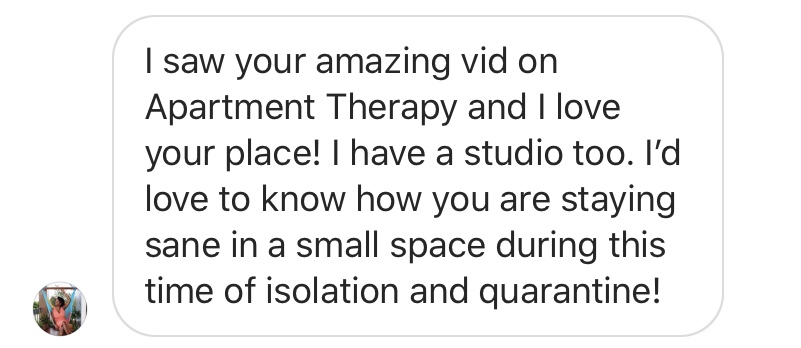 When you're surrounded by things that you love, you'll find comfort in the smallest of spaces.
6 Tips for Studio Living by Someone Who Actually Lives in One:
Incorporate items that you love – Surround yourself with a few key pieces that bring you joy. I have several items in my home that remind me of people I love, my hometown, childhood memories, and my late grandmother. I don't like fussy decorations, but there are many little things scattered about my apartment that have a story. They're not always easily noticeable even to the people involved, yet and still they make me smile.
Create and utilize zones-Yes, by definition it's a room. Yes it's tiny, but you can still create a living room, bedroom, dining room, and office by using design to carve those areas into the space. It's easy to plop down on the sofa in front of the tv to do all of life's tasks, but taking advantage of zone living makes a studio feel fresh. I like to take it one step further by reinforcing those zones by referring to each area as if it were full-sized, in fact I take it to the hilt and over embellish. I have breakfast on the terrace many a sunny day!! (see video above).
Use vertical space-Draw the eye up and increase your storage capacity by using your vertical space. I mean you don't really have a choice do you? Well you do, but neglecting that area can make a studio look stubby. Aside from ceiling height storage, I also love hanging drapes, shower curtains and lamps from the ceiling.
Mirrors make a huge impact– How do you make a studio look bigger? Mirrors!!! Not only do they give the illusion of a larger space, mirrors, glass and reflective surfaces bounce light around creating depth and interest to a studio. Even better if your mirrors double as an accent wall!! bonus!!
Multifunctional furniture is a game changer– Seating with storage, sofa beds, tables that area easily moved around the space and other double duty pieces are incredibly useful when space is limited.
Scent shouldn't be overlooked– Changing the way your home smells periodically creates a different vibe in the space. In the morning I might start with citrus based oils in my diffuser to energize the studio and later in the evening switch to calming or muskier scents for a completely different mood.